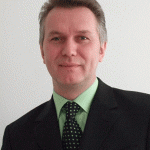 Bernd Schlueter
Nowadays innovative manufacturers of electronic components are focusing on their core competence: Development of highly sophisticated components.
As the active link to customers serves for these manufacturers a Representative supplementing their own organization.

To provide customers in communications and multimedia industries all over Europe, who have to have their products to market fast and on schedule, with the highest level of support for their designs, I founded AXELLENCE in
March 2000.  And since AXELLENCE added more talents to the team and attracted more manufacturers to expand the portfolio over the past years this level of support is now as well available to customers developing appliances for data/storage, consumer, industrial automation and medical market.

But our quota is still the same: Only the success of our most demanding customers makes us successful.

Hence success is our mission and our challenge.